PRACTICES
OVERVIEW
Tim Davis, Chair of the Firm's Business Department, is an experienced real estate finance lawyer and previously served as Co-Chair of the firm's Real Estate and Institutional Finance Group. He has over 25 years of experience representing investment funds, insurance companies and banks in a wide array of real estate finance transactions, including the origination, acquisition and restructuring of mortgage loans, mezzanine loans, "B" notes and preferred equity investments. Tim has deep experience structuring and negotiating intercreditor, co-lender and participation agreements. He also regularly represents institutional clients in the acquisition and disposition of performing and non-performing loans and commercial properties. Tim also has extensive experience in the restructuring, enforcement and resolution of defaulted loans, including deed-in-lieu of foreclosure transactions.
Tim is a frequent moderator and panelist at real estate finance industry conferences.
Recognition and Involvement
Recognition & Involvement
Since 2021, Tim has been recognized by Chambers USA (Tier 1) as a leading lawyer in real estate finance in Pennsylvania. Last year, one source noted, "Tim is a knowledgeable finance lawyer with a lots of experience and market knowledge." As part of the Chambers USA 2023 results, one reference commented, "Tim is a fantastic lawyer." Another commented, "Tim offers a very high level of service and ability to quickly handle complex legal matters."
Since 2016, Tim has been recognized by The Best Lawyers in America® in the area of Real Estate Law. He is also AV® Preeminent rated by the Martindale-Hubbell peer review rating system.
In 2017, Tim was elected by his peers as a Fellow in the American College of Mortgage Attorneys, a prestigious national invitation-only organization formed to establish an integrated group of lawyers in each state who are highly skilled in real estate lending and related practices.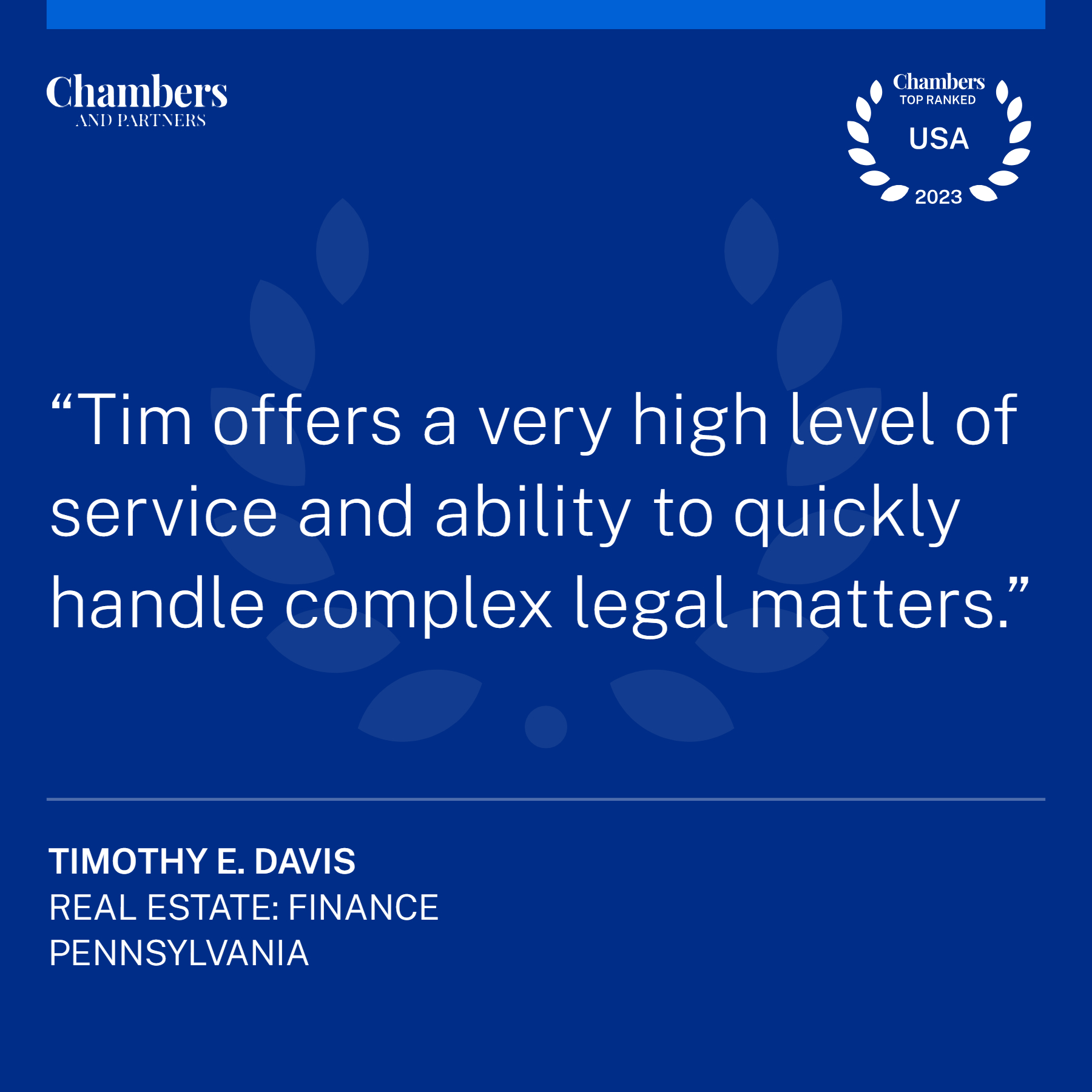 Credentials
Bar and Court Admissions
Pennsylvania
Education
University of Pennsylvania Law School, JD, 1989
University of Pennsylvania, MA, 1986
University of Pennsylvania, BA, magna cum laude, with distinction in English, 1985
News & Insights
5.16.23

|

IMN Real Estate Mezzanine Financing & High-Yield Debt Forum (New York, NY)

4.19.23

|

Mortgage Bankers Association of New York Breakfast (New York, NY)

2.1.23

|

Real Estate Alert

5.4.22

|

iGlobal Forum 12th Real Estate Mezzanine Financing Summit

9.8.20

|

Real Estate Alert

8.14.20

|

Real Estate Alert

8.3.20

|

Real Estate Alert

7.8.20

|

iGlobal Forum 10th Real Estate Mezzanine Financing Summit (Virtual)

7.6.20

|

Real Estate Alert

5.19.20

|

Real Estate and Finance Alert

5.15.20

|

Real Estate and Finance Alert

4.17.20

|

Real Estate Alert

3.30.20

|

Real Estate and Finance Alert

3.26.20

|

Real Estate Alert

3.25.20

|

Real Estate Alert

3.24.20

|

Real Estate Alert

10.10.19

|

White and Williams LLP (Philadelphia, PA)

9.6.19

|

American College of Mortgage Attorneys 2019 Annual Meeting (Monterey, California)

8.14.19

|

Real Estate Alert

5.7.19

|

iGlobal Forum 9th Real Estate Mezzanine Financing Summit (New York, NY)

4.22.19

|

Real Estate Alert

3.5.19

|

Mortgage Bankers Association of New York Breakfast Program (New York, NY)

2.5.19

|

Real Estate Alert

8.7.18

|

Real Estate Alert

6.7.18

|

iGlobal Forum 8th Real Estate Mezzanine Financing Summit (New York, NY)

Spring 2018

|

Real Estate Finance Journal

11.8.17

|

IMN Real Estate Mezzanine Financing & High Yield Debt Forum (New York, NY)

9.21.17

|

Real Estate Alert

4.28.17

|

Real Estate Alert

11.1.16

|

IMN Borrower & Investor Forum (New York, NY)

5.16.16

|

Tax and Finance Alert

4.7.16

|

Philadelphia, PA

3.22.16

|

Tax and Finance Alert

11.10.15

|

IMN Borrower & Investor Forum (New York, NY)

4.23.15

|

Philadelphia, PA
Memberships
American College of Mortgage Attorneys, Fellow
CRE Finance Council
National Multifamily Housing Council
REPRESENTATIVE MATTERS
Representation of

insurance company and its investment advisor in origination of $85 million mortgage loan relating to 254-unit luxury apartment complex

Representation of

insurance company and its investment advisor in origination of $35 million mortgage loan relating to large luxury apartment complex
Representation of investment fund in origination of $160 million mortgage loan relating to branded hotel and resort
Representation of investment fund in origination of $60 million mortgage loan relating to expansive multi-family complex with unique real estate complexities
Representation of investment fund in origination of $22 million mortgage loan relating to acquisition and rebranding of resort hotel
Representation of investment fund in origination of $35 million mortgage loan and $10 million mezzanine loan financing of multi-state hotel portfolio
Representation of investment fund in co-origination of $41 million construction financing of luxury multi-family project, inclusive of complicated senior-subordinate (A/B) co-lender negotiations
Representation of investment fund in acquisition of $25 million mezzanine loan relating to major urban hotel, inclusive of negotiation of bespoke intercreditor agreement with senior lender and implementation of risk mitigation deal features to address complex real estate issues
Representation of investment fund in $11 million preferred equity investment in luxury multi-family construction project, inclusive of drafting and negotiating customized recognition agreements with mortgage lender and ground lessor
Representation of investment fund in $4.4 million preferred equity investment in luxury student housing complex, including negotiating customized recognition agreement with mortgage lender
Representation of investment fund in origination of $6.4 million mezzanine construction loan for luxury multi-family complex, inclusive of extensive intercreditor negotiations with senior lender
Representation of life insurance company in origination of $48 million mortgage loan relating to luxury multi-family complex, inclusive of intercreditor negotiations with German pension fund
Representation of life insurance company in origination of $38 million mezzanine loan relating to Class A office building
Representation of life insurance company in origination of $30 million mortgage loan financing of class A office building
Representation of life insurance company in origination of $63 million mortgage loan financing of portfolio of retail centers
Representation of financial institution in origination and syndication of $175 million mortgage loan of class A office building
Representation of financial institution in origination of $22 million construction to permanent mortgage loan for medical facility buliding
Representations of investment funds and life insurance companies in numerous acquisitions and dispositions of mortgage loans, "B" notes and mezzanine loans across the capital stack
Numerous representations of clients with respect to mortgage loan restructurings, mezzanine loan restructurings, deed in lieu transactions and enforcement proceedings