White and Williams Shows Team Spirit
2.2.18
The big game is just days away and White and Williams celebrated team spirit with a dress down day for a good cause. As the Philadelphia Eagles and New England Patriots get ready to face off in Minnesota on Sunday, employees joined in the game day spirit by wearing jerseys in support of their favorite teams. To participate, employees donated funds that will benefit the winning team's sponsored foundation.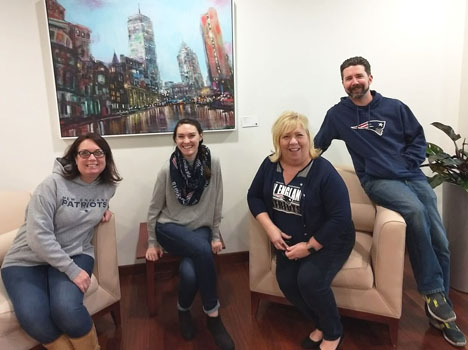 With offices in Philadelphia and Boston, Sunday's game is even more special at White and Williams. The fan base in each office is strong, but regardless of who wins the game, all employees can be happy with knowing that their team spirit benefited a worthy cause.
Located in the heart of Center City, Philadelphia serves as White and Williams' headquarters. The Boston office, opened in 2009, is located in the historic Downtown Crossing section.
If you would like to receive additional news alerts, event notifications, or correspondences pertaining to this and other industry-specific topics, please sign up by visiting the Subscribe page. Be sure to provide your contact information, including email address, and select the areas of practice or industries for which you would like to receive information.
This correspondence should not be construed as legal advice or legal opinion on any specific facts or circumstances. The contents are intended for general informational purposes only and you are urged to consult a lawyer concerning your own situation with any specific legal question you may have.