Tangled Title Practice Group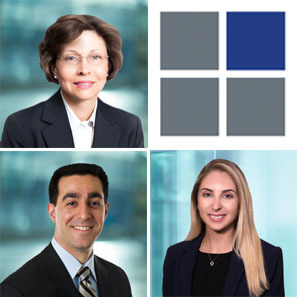 White and Williams' Tangled Title practice group brings together attorneys and paralegals of varying experience levels and in different practice groups across the firm to preserve family assets and stabilize Philadelphia neighborhoods. The group was honored with the Trailblazing Partner Award at Philadelphia VIP's Annual Awards Ceremony in 2018.
Partner Nancy Frantz, who leads the Tangled Title practice group, Counsel Mark Paladino, and paralegals Michele McGlashan Frost and Lisa Ann Zolna shared an experience resolving a tangled title pro bono matter.
Tell us about your pro bono experience.
In a true team effort, we recently assisted a client in clearing a (particularly) tangled title to her home, which was originally owned by her deceased mother. There were various hurdles to overcome, including having all siblings (and, in the case of one deceased sibling, her next of kin) renounce any rights to the mother's estate, opening that estate with our client in the role of administratrix, and transferring all interest in the property to her. Accomplishing this was crucial to our client, whose home was in dire need of repairs and replacement of appliances, for which Habitat for Humanity had been contacted but could not proceed until the property was in her name.
Why is pro bono service important to you?
Pro bono service is a critical part of our professional responsibility as attorneys and legal professionals. At its core, being a lawyer is about bring about justice, and there is no more altruistic way to do so that through pro bono work.
How did you select an organization to support? What would you want someone to know about the organization?
Philadelphia VIP champions a worthy cause, providing legal services to those who would not otherwise have access to them. The cases that they handle are challenging, and, most importantly, involve issues that have tremendous humanistic value to their clients. There are few better opportunities to make a real impact on someone's daily life.
What value does pro bono service provide you and your clients?
Primarily, the focus of pro bono service is to assist someone in achieving a result that they might not have been able to achieve, whether due to the complexity of the issue or the lack of means. From a personal perspective, there is a true sense of reward in helping someone reach a goal, particularly one that is so important to that individual's most basic needs.
why should other lawyers get involved in pro bono service?
Pro bono service is the epitome of the ideals that drove us to become attorneys and legal professionals. It lets us give back to the communities that have allowed us to embark on our careers, and to reinvigorate the spirit that brought us to this profession in the first place.
What Advice do you have for lawyers who want to get involved in pro bono service?
Identify an organization that focuses on a cause in which you have a personal interest. When you do so, even the smallest difference you make will be exceptionally rewarding.