Tara Gibbons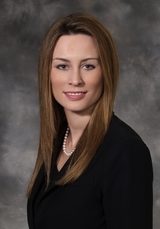 Associate, Real Estate and Finance, 2008 - 2011
Currently Real Estate Legal Counsel at Wawa
Q: Describe your current position?
A: I am one of three attorneys on Wawa's real estate legal team. I work on matters associated with real estate development and managing real estate for our existing leased and owned stores. My work is primarily focused on Wawa's development in Florida – opening new stores, purchasing property, leasing agreements, and working on multi-party agreements for our larger store developments.


Q: Who were your mentors at White and Williams?
A: I had a few mentors during my time at White and Williams. In my practice group, Maulin Vidwans and Raina Mehta were my biggest work mentors. They helped me to understand the larger picture of our deals as well as prioritizing work for our clients, which is useful at Wawa where I'm more immersed in the business side of the company and constantly juggling matters.
When I joined the real estate group at White and Williams, Raina trained me on document review and drafting, which was a huge help. She also shared best efficiencies and business practices, which Maulin was a big promoter of. At Wawa I've been able to use those efficiencies due to the restraints on time and increased management work.
There were many great real estate attorneys like Thomas Rogers and Joan Rosoff, who I was able to work with on "dirt real estate" deals. Some of the work I did with them is most similar to what I do today, dealing literally with concrete and shopping centers.
In terms of my overall career, David Haase, who hired me as a Summer Associate, has been my biggest career development mentor. I still keep in touch with David as he is a great person who connects with so many associates on a personal level.
Q: What was your favorite memory from your time at White and Williams?
A: Some of the relationships I created are my best memories from White and Williams. Many of the associates were very close at the time and we continue to stay in touch as we still have the connection back to our time at White and Williams. Some have gone in-house and have spread out, but keeping in touch has been interesting as everyone's careers have progressed.
I also have great memories from the Summer Program at White and Williams, which was run by David Haase. The firm did a great job of exposing us to all the different departments so we could find the right niche. My career at White and Williams started with that program as it introduced me to different areas of the firm and then got me to the right area – real estate.
Q: What was your transition from private practice to in-house like?
A: When you are at a law firm, you have more time dedicated to matters. On the corporate side it is just nonstop. I do not know if I was expecting that when I transitioned to Wawa. My days can fill up quickly with what law firms call non-billable work. A lot of my work at Wawa focuses on the business rather than just focusing on the legal piece, as I'm sure is the case for most of the attorneys who go in-house. I think that it's a bit of a misconception at times for attorneys going in-house to think it will be an easier day. A typical day is filled with interacting with the business teams at Wawa – it's a lot of meetings and understanding what is going on in the bigger business picture, which I really enjoy.