White and Williams Sponsors The Philadelphia Orchestra's Performance in Tianjin, China as Part of 40th Anniversary Celebration
2019 Marks 40 Years of US - China Diplomatic Relations, Including Sister Cities Relationship Between Philadelphia and Tianjin
6.5.19
White and Williams sponsored a performance by The Philadelphia Orchestra in Tianjin, China, as well as a reception, to celebrate the 40th anniversary of the Sister Cities relationship between Philadelphia and Tianjin. Partner Gary Biehn, Chair of the International Group, and Associate Jamie Wang were in attendance on behalf of the firm. The performance was part of a larger tour across China by The Philadelphia Orchestra, commemorating 40 years of diplomatic relations between the United States and China.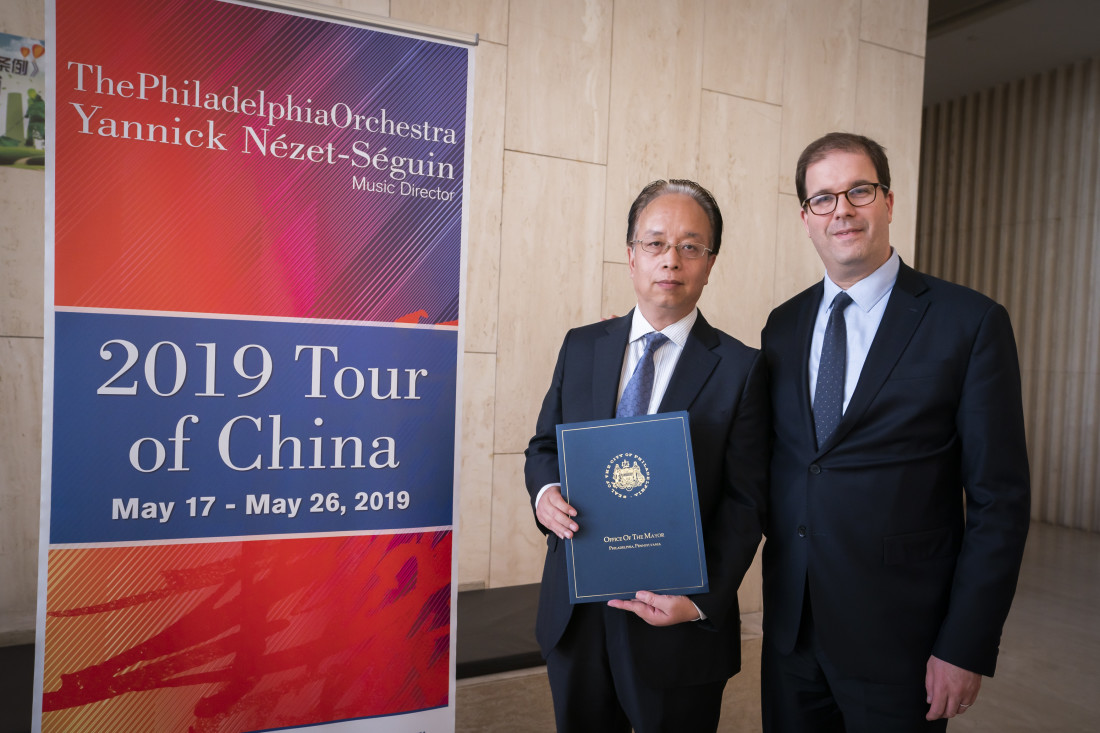 The anniversary of the Sister Cities relationship was recognized at the pre-concert reception with the exchange of Mayoral Tributes between Matias Tarnopolsky, Orchestra President and CEO, and Wei Ming Chen, deputy director-general of the Foreign Affairs Office of the Tianjin Municipal People's Government (pictured right; photo credit: Chris Lee). The performance took place at the Tianjin Grand Theatre.
White and Williams is the official law partner of The Philadelphia Orchestra in China and has had the great honor of serving as special counsel to the Orchestra since 2012. Ryan Fleur, Executive Director of The Philadelphia Orchestra and Ambassador Platt, who, in 1973, was tasked by President Nixon to schedule and arrange the Orchestra's first performance in China under legendary Conductor Eugene Ormandy, also attended the reception. The historic 1973 performance marked the first U.S. orchestra to visit China and served as an important step in opening the diplomatic relations between the United States and China.
If you would like to receive additional news alerts, event notifications, or correspondences pertaining to this and other industry-specific topics, please sign up by visiting the Subscribe page. Be sure to provide your contact information, including email address, and select the areas of practice or industries for which you would like to receive information.
This correspondence should not be construed as legal advice or legal opinion on any specific facts or circumstances. The contents are intended for general informational purposes only and you are urged to consult a lawyer concerning your own situation with any specific legal question you may have.