Emily Jones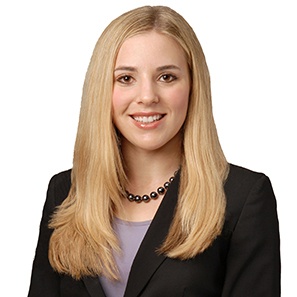 Associate, Business, 2013 - 2015
Currently Senior Counsel at Radial Inc.
During her tenure at White and Williams, Emily completed a secondment that turned into a new opportunity as in-house counsel with Radial Inc. In this position, Emily works on transactions supporting e-commerce businesses of retailers.
Q: Describe your current position.
A: I am one of the attorneys on the commercial team at Radial Inc. The majority of my time is spent running deals for services that support the e-commerce business of large retailers. These include fulfillment services, customer care services, and technology services like order management, payment, tax, and fraud review services, as well as omnichannel technology that enable different store fulfillment and dropship options.
In addition, I manage litigation and do all of the legal work for real estate.
Q: How did your time at White and Williams help you prepare for this role? What skills did you develop at White and Williams that help you in this position?
A: My experience at White and Williams taught me to communicate more like a business partner than like a lawyer, which is what a lot of busy clients want. I learned that if you can't communicate an answer in around two sentences, you don't have an answer that the client wants to hear and you better keep thinking.
As far as substantive skills go, a lot of the deal work in real estate finance laid a great foundation for the commercial drafting that I do now as well. I did a lot of leasing work at White and Williams, which directly prepared me to manage the over 13 million square feet of real estate that we have at Radial, the majority of which is now leased.
Q: How did your time at White and Williams influence your career?
A: While at the firm, I was lucky enough to be able to do a secondment. That experience changed my career trajectory and opened up an opportunity to move to an in-house role. I found that I was really fulfilled by being part of a team where everyone is continuously working toward the same goal.
Q: Who were your mentors at White and Williams?
A: Frank Bruno, who I worked with during my secondment, as well as Steve Ostrow, who really supported me throughout all of my various roles at the firm.
Q: How do you mentor others?
A: I'm currently training another person in my commercial role right now. In general, I'm a big believer in shadowing within the workplace as well as being as open, honest, and direct as I can be. I answer any question, no matter how silly it may seem. I realize that if someone does not know the answer to one of those questions, then it is more important than the "tough" questions to make sure he or she understands. I think people often forget that.
Q: What do you do when not working?
A: I have a 14-month old daughter, Rachel, with whom I spend my time when I'm not working. At this point in my life, finding a balance between work and family is a top priority