Print PDF
Attorneys
Practice Areas
World Trade Center of Greater Philadelphia Selects White and Williams as 2012 Member Company of the Year for PA
May 17, 2012
From L to R (Anthony Bartolomeo, WTCGP Board Member; Guy A. Cellucci, Managing Partner, White and Williams; Linda Mysliwy Conlin, WTCGP President, Gary P. Biehn, Partner, White and Williams and WTCGP Board Member)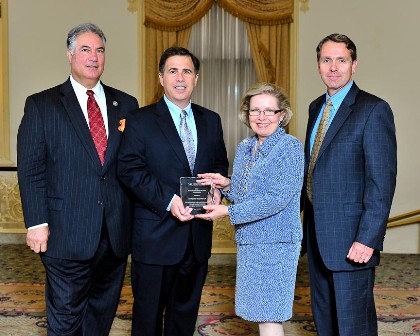 The World Trade Center of Greater Philadelphia (WTCGP) selected White and Williams as 2012 Member Company of the Year for Pennsylvania. The firm was honored during WTCGP's 10th anniversary celebration and dinner on May 17, 2012 at the Hyatt at the Bellevue.
White and Williams has been a member partner and Leadership Council member of WTCGP since 2005 and an active participant in the CEOs' China Operations Club - an outreach program initiated by the WTCGP in 2004 - for the business community in the Greater Philadelphia area designed to allow local companies a forum to exchange information and ideas to improve their understanding of, and efficiency in, successfully operating in China.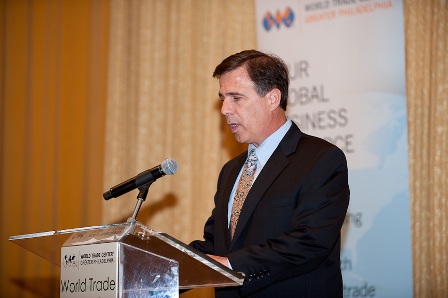 Our partnership with the WTCGP has also provided participation opportunities in educational programs designed to assist companies in our region to better understand how to pursue business opportunities abroad.
"We are honored to receive this award and look forward to continued success with the World Trade Center," said Gary Biehn, Chair of the Business Department. "The World Trade Center has, and continues to be, a strong resource and ally in the commitment to the growth of international trade in the Greater Philadelphia area. We are proud to be a partner."
If you would like to receive additional news alerts, event notifications, or correspondences pertaining to this and other industry-specific topics, please sign up by visiting the Contact Us page. Be sure to provide your contact information, including email address, and list the areas of practice or industries for which you would like to receive information.
This correspondence should not be construed as legal advice or legal opinion on any specific facts or circumstances. The contents are intended for general informational purposes only, and you are urged to consult a lawyer concerning your own situation with any specific legal question you may have.