Print PDF
And the Winners of White and Williams' Exceeding Expectations Inaugural Scholarship Contest Are….
May 17, 2012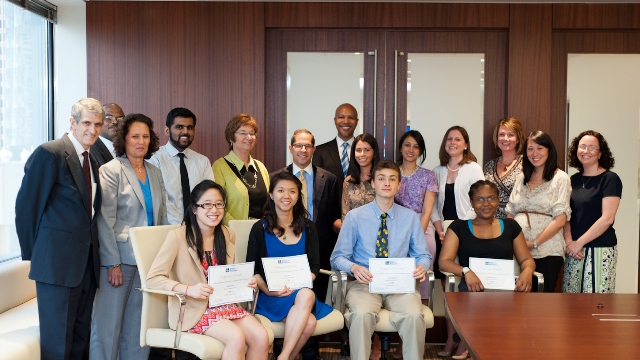 White and Williams would like to congratulate Jack Saint Clair, Kelly Yao, Melanie Millwood and Jenny Zhang for winning the first-ever White and Williams' Exceeding Expectations scholarship contest.
The firm opened up the contest to graduating high school students at our adopted school – Masterman – in April. After receiving 14 applicants who met the academic criteria for consideration, a committee of White and Williams lawyers and staff selected these four outstanding students. The winners were chosen based on a number of factors including their essay, recommendation letters, after-school activities and overall presentation.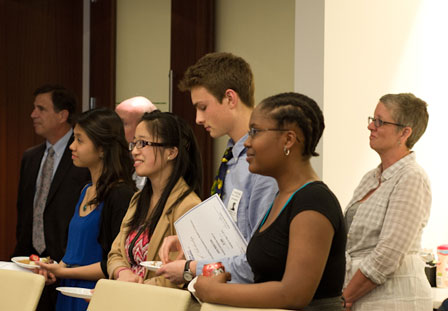 On May 17, the firm hosted a reception to honor the winners. Jack, Kelly and Melanie received a $1,000 scholarship while Jenny received a $500 scholarship.
Since the firm's adoption of Masterman – in March – lawyers and staff have contributed time, finances and resources including funding of faculty grants, sponsorship of the school's play and participation in their clean up day. This year long adoption is intentionally fluid – the firm desires to partner in every possible way with the school to show support. The next area of support from the firm is the hosting of an intern this summer.
About the Winners

From L to R: Jenny Zhang, Kelly Yao, Melanie Millwood and Jack Saint Clair

White and Williams LLP Exceeding Expectations Student of Distinction – Jack Saint Clair
Jack Saint Clair is an accomplished musician and credits his "discipline, honesty, focus and diligence" to a music teacher he had as a young boy. To this day, he yields that teacher's advice, "anything can be achieved through preparation and heart," and applies it to his life.
His poise and discipline have paved the way for Jack to excel in his studies, become talented at playing the saxophone, flute and clarinet, and still leave time for the cross-country team and community service.
As a skilled saxophonist, Jack has been invited to play in the All-City Band and won the All-City Concerto Competition.
Jack is following his love and passion for music by pursuing a degree in Jazz Studies Performance at Temple University's Boyer College of Music and Dance.
White and Williams LLP Exceeding Expectations Minority of Distinction – Kelly Yao
Kelly Yao has achieved many accomplishments in her life thus far, but none more rewarding than becoming the first member of her family to attend college. As the daughter of immigrant parents who lived a humble life in China, Kelly has been working towards the American dream of a "better life." It was one that was afforded to her by her parents move to the United States in the late 1980s, and the catalyst behind her strong work ethic.
Kelly is an ambitious, go-getter who has managed to juggle many activities, including school (taking on AP level courses), sports (cross-country and volleyball, to name a few), and community service (especially with the Philadelphia Chinatown Development Corporation).
She hopes to continue this high-level of commitment to her studies as she pursues a business management degree from the University of Pennsylvania. Kelly is already thinking long-term and hopes to attend Penn's Wharton School for Business to obtain an MBA following her undergraduate studies.
White and Williams LLP Exceeding Expectations Woman of Distinction – Melanie Millwood
Melanie Millwood is a confident, smart, young woman who makes juggling school and after-school activities seem effortless. Her academic accomplishments have led to numerous awards and honors. Earlier this year, Melanie was selected as a semi-finalist for the National Achievement award, an honor evaluated on a student's PSAT scores and essay.
Melanie has been involved with a number of organizations, but none more passionately than the Gay-Straight Alliance. It's a group where Melanie can help classmates plan how they "come out" to their parents/friends, and advocate for and educate people on Lesbian, Gay, Bisexual and Transgender issues.
Melanie is a dedicated, passionate student. One teacher wrote, "she is undoubtedly the surest bet of any student I've ever taught. There is not a school in the country that wouldn't benefit from Melanie's presence."
Melanie hopes to pursue a career in political science at New York University.
White and Williams LLP Exceeding Expectations Commendable Student – Jenny Zhang
The summer of 2003 would change Jenny Zhang's life. It was during this trip that Jenny met –for the first time – and developed a special bond with her grandfather. She witnessed first-hand his ability to stay calm under stressful situations as President of the Shanghai International Port. She saw how his employees looked up to him and treated him with the utmost respect. There was something special about him; it was "the overall way he carried himself." From that moment, she knew she found her role model and would strive to be just like him – a successful, respected businessperson.
Since then, Jenny has worked hard in school, immersed herself in a number of extracurricular activities including sports, the orchestra, Pennsylvania School for Global Entrepreneurship and the Ronald McDonald House. She has also found time to learn Mandarin, Shanghainese and Spanish.
On a recent trip to China, her grandfather told her that his only dream was for her to be successful and happy. Wishing to fulfill her grandfather's dream, Jenny made a promise to follow in his footsteps. She is looking to pursue a business degree from the University of Pennsylvania's Wharton School of Business.
If you would like to receive additional news alerts, event notifications, or correspondences pertaining to this and other industry-specific topics, please sign up by visiting the Contact Us page. Be sure to provide your contact information, including email address, and list the areas of practice or industries for which you would like to receive information.
This correspondence should not be construed as legal advice or legal opinion on any specific facts or circumstances. The contents are intended for general informational purposes only, and you are urged to consult a lawyer concerning your own situation with any specific legal question you may have.