Print PDF
White and Williams Kicks Off Two-Year Engagement with Chester Arthur School
Philadelphia, PA
May 30, 2014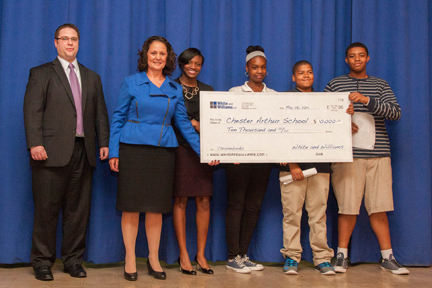 White and Williams Managing Partner, Patti Santelle, officially kicked off the adoption of Chester A. Arthur School on May 28 by announcing that the firm is donating $10,000 towards the purchase of Google Chromebooks for the middle school students. The laptops are a welcome addition to the school, providing students with better access to technology and resources, expanding learning outside the classroom.
Both Patti Santelle and the school's principal, Kim Newman, recognize that it's the firm's investment of time that may have the biggest impact on the students. Principal Newman commented that most students only know lawyers from television so this relationship is a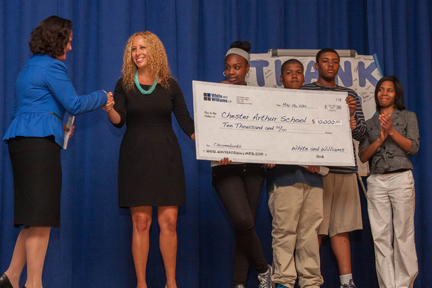 real opportunity to talk to them about the many types of law and legal careers that exist. That's exactly what a group of White and Williams lawyers and staff will do on June 4 when they participate in the school's Career Day.
White and Williams launched the "Adopt a School" initiative as a way to give back to the community, invest in education and provide a unique opportunity for the lawyers and staff to engage through the investment of time and resources. Other plans may include school supply and winter clothes collections, participation in school clean-up days and field trips from the South Philadelphia school to the firm's Center City office.
Please click here to view the news coverage from 6ABC and click here to listen to the radio report from KYW.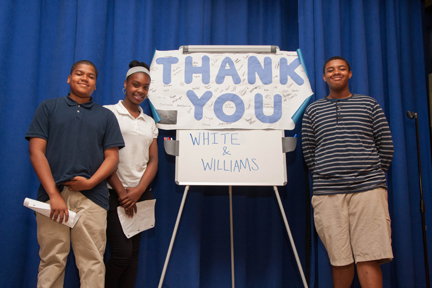 If you would like to receive additional news alerts, event notifications, or correspondences pertaining to this and other industry-specific topics, please sign up by visiting the Contact Us page. Be sure to provide your contact information, including email address, and list the areas of practice or industries for which you would like to receive information.
This correspondence should not be construed as legal advice or legal opinion on any specific facts or circumstances. The contents are intended for general informational purposes only, and you are urged to consult a lawyer concerning your own situation with any specific legal question you may have.