Print PDF
Wes Payne and Sophia Lee Accept Diversity Award on Behalf of Philadelphia Diversity Law Group
Philadelphia Bar Association Quarterly Luncheon
March 11, 2013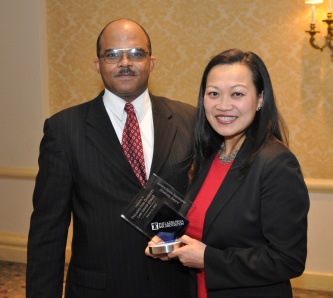 Wes Payne (White and Williams LLP) and Sophia Lee (Sunoco, Inc.), co-presidents of the Philadelphia Diversity Law Group (PDLG), accepted the Philadelphia Bar Association's Justice Sonia Sotomayor Diversity Award, on the organization's behalf.
The PDLG was noted for its commitment to promoting full and equal participation in the legal profession through the encouragement and inclusion of diverse attorneys in its member law firms and corporate legal offices, and connecting first-year diverse law students with summer fellowships within its member organizations.
PDLG was honored on March 11, 2013 at the Philadelphia Bar Association's quarterly luncheon.
If you would like to receive additional news alerts, event notifications, or correspondences pertaining to this and other industry-specific topics, please sign up by visiting the Contact Us page. Be sure to provide your contact information, including email address, and list the areas of practice or industries for which you would like to receive information.
This correspondence should not be construed as legal advice or legal opinion on any specific facts or circumstances. The contents are intended for general informational purposes only, and you are urged to consult a lawyer concerning your own situation with any specific legal question you may have.