Print PDF
Students and Faculty of Local School Celebrate their "Adoption" with White and Williams
J.R. Masterman School (Philadelphia, PA)
March 2, 2012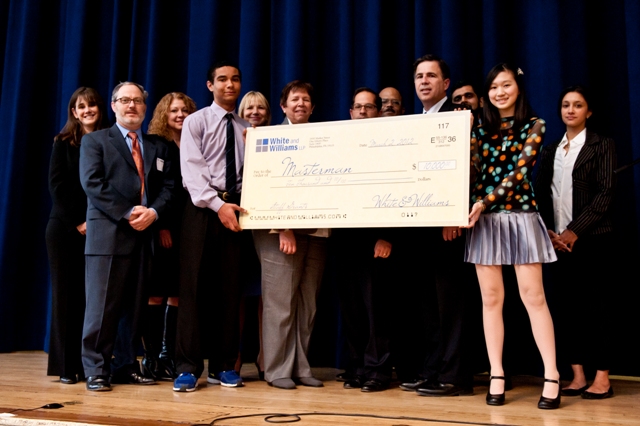 On Friday, March 2, 2012, Guy Cellucci, Managing Partner of White and Williams, along with lawyers and staff presented a $10,000 check for staff grants - the first of many donations of cash, resources and employee time from the firm - during an assembly, marking the formal adoption of J.R. Masterman School. The check allows faculty members to purchase supplies needed to teach their students.
In addition to the check presentation, members of the school's choir, Sweet Sixteen sang songs. The school's principal, Marjorie Neff, students and President of Home School, Angelina Williams, surprised the firm with a celebratory balloon drop to thank the firm for its support.
White and Williams adopted the school as a way of giving back and investing in its community. Through this "adoption," the firm and its employees look to help the 1,150 students currently enrolled at the school. During a time when Masterman is facing deep budget cuts, the firm looks to provide tools and resources needed to ensure Masterman continues to succeed and serve as a model of success.
Masterman's proximity being only eight blocks away will allow lawyers and staff to get personally involved with the school, partaking in activities like the school's annual "Clean up Day," Mentoring Day and Career Day
The firm will also make three college scholarships available for three students – one minority, one female and one commendable student.
Read press coverage of the adoption from KYW News Radio.
View additional photos from the event.
If you would like to receive additional news alerts, event notifications, or correspondences pertaining to this and other industry-specific topics, please sign up by visiting the Contact Us page. Be sure to provide your contact information, including email address, and list the areas of practice or industries for which you would like to receive information.
This correspondence should not be construed as legal advice or legal opinion on any specific facts or circumstances. The contents are intended for general informational purposes only, and you are urged to consult a lawyer concerning your own situation with any specific legal question you may have.