Print PDF
Santelle and Biehn Attend United Nations Dinner Featuring The Philadelphia Orchestra
New York, NY
September 22, 2014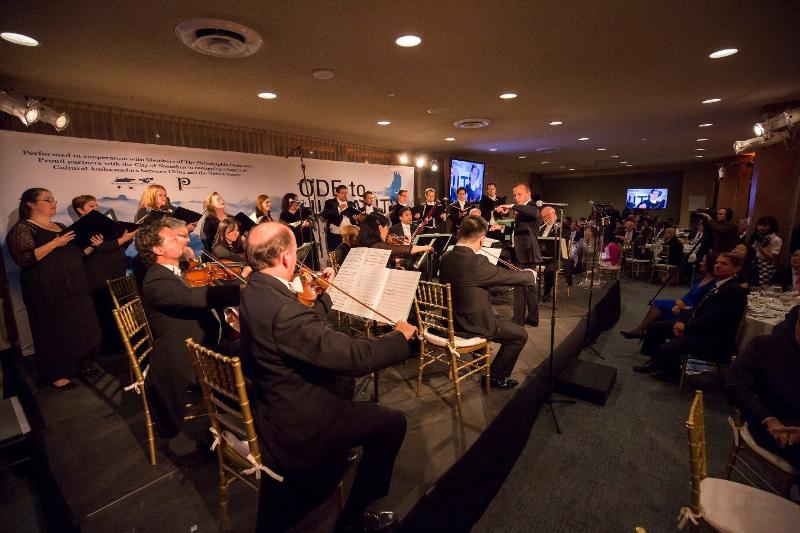 White and Williams' Managing Partner Patti Santelle and Partner Gary Biehn enjoyed front row seats joining ambassadors, heads of state, and world leaders at The Philadelphia Orchestra's performance in conjunction with the 69th Session of the United Nations General Assembly. "The Philadelphia Orchestra is a valued client of the firm," said Biehn. "Our ties became even closer as a result of our providing services in conjunction with their 2013 and 2014 Tours of Asia & China Residencies," Biehn continued. Gary Biehn chairs White and Williams' China Business practice and accompanied the Orchestra during their tour of China.
The evening featured an original piece specifically written for the occasion. "Ode to Humanity," was written by Wang Ning and arranged by Ke-Chia Chen. Shenzhen International Culture Exchange Association collaborated to create and present the piece. According to Philadelphia Orchestra President and CEO, Allison Vulgamore, the musical tribute honors the work of the UN and "expresses themes of tolerance, peace, understanding, and joy across countries and cultures."
Photo by Chris Lee.
If you would like to receive additional news alerts, event notifications, or correspondences pertaining to this and other industry-specific topics, please sign up by visiting the Contact Us page. Be sure to provide your contact information, including email address, and list the areas of practice or industries for which you would like to receive information.
This correspondence should not be construed as legal advice or legal opinion on any specific facts or circumstances. The contents are intended for general informational purposes only, and you are urged to consult a lawyer concerning your own situation with any specific legal question you may have.