Print PDF
Attorneys
Practice Areas
Partner Chris Konzelmann Recognized as Moorestown, NJ Hometown Hero for Service as a Volunteer Firefighter
April 2, 2014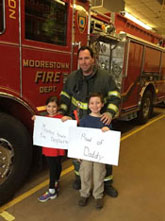 Partner Chris Konzelmann was recognized by Moorestown Patch as this month's Hometown Hero for his service as a volunteer firefighter. Shortly after moving to Moorestown in 2005, Chris joined the fire department in as a way to be more involved in his community. He graduated from the fire academy in August 2006 at the top of his class. Since he graduated, Chris was appointed Lieutenant of Station 312 in 2010 and promoted to Captain in 2011.
"Assisting Moorestown residents when they call for help is time consuming but very rewarding," Konzelmann said. "The town has well trained firefighters who dedicate substantial time to help others in their time of need."
If you would like to receive additional news alerts, event notifications, or correspondences pertaining to this and other industry-specific topics, please sign up by visiting the Contact Us page. Be sure to provide your contact information, including email address, and list the areas of practice or industries for which you would like to receive information.
This correspondence should not be construed as legal advice or legal opinion on any specific facts or circumstances. The contents are intended for general informational purposes only, and you are urged to consult a lawyer concerning your own situation with any specific legal question you may have.