Print PDF
White and Williams Receives the Huey R. Burkett Service Award from Temple Law's LEAP Program for Continued Support of Public Education
March 24, 2014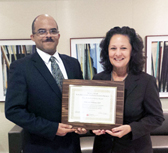 White and Williams is the recipient of the Huey R. Burkett Award from Temple Law's LEAP program for its support of the 2013 Mock-Trial Camp. The Mock Trial Camp is organized in a joint effort by Temple-LEAP and the Young Lawyers Division of the Philadelphia Bar Association. It is an intensive all-day event for Philadelphia public, private and parochial students that couples an instructive component with hands-on training in direct and cross-examination of parties and witnesses. Students work alongside attorneys and law students to practice their trial skills and have the chance to experience a real law school class, taught by Temple's renowned trial advocacy faculty.
Temple-LEAP's mission is to educate non-lawyers, particularly middle and high school students from Philadelphia area schools, about the law and citizenship. Started in 1974, LEAP reaches these goals by teaching about principles of democracy while developing critical reading, writing and thinking skills. The cornerstone of Temple-LEAP is the John S. Bradway High School Mock Trial Competition. The Temple-LEAP office administers the Philadelphia competition together with other programs that engage non-lawyers to learn more about the law and civic education.
If you would like to receive additional news alerts, event notifications, or correspondences pertaining to this and other industry-specific topics, please sign up by visiting the Contact Us page. Be sure to provide your contact information, including email address, and list the areas of practice or industries for which you would like to receive information.
This correspondence should not be construed as legal advice or legal opinion on any specific facts or circumstances. The contents are intended for general informational purposes only, and you are urged to consult a lawyer concerning your own situation with any specific legal question you may have.