Print PDF
Attorneys
Practice Areas
Gary Biehn Witnesses Signing of Eco Partnership in China
July 10, 2014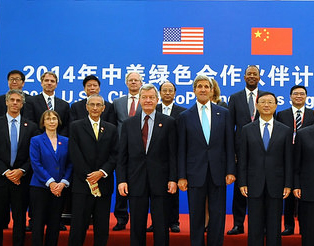 Gary Biehn, Chair of the International Group, was among a select group of Greater Philadelphia delegates to participate at the signing ceremony attended by U.S. Secretary of State John Kerry and Chinese State Councilor Yang Jiechi, commemorating the US-China Eco Partnership. The ceremony was held on July 10 in the Great Hall of the People, which overlooks Tiananmen Square in Beijing, China, as part of this year's US-China strategic and economic talks. The US-China Eco Partnership program is an annual competition run jointly by the U.S. and Chinese governments to elevate successful strategic partnerships as part of the 10-year framework for US-China cooperation in energy and environment (2008 through 2018).
Also present at the ceremony was Terry Cooke, Founder of the China Partnership of Greater Philadelphia, which forged the relationship between the City of Philadelphia's Commerce Department and its Chinese counterpart, the Tianjin Economic Development Area (TEDA). White and Williams advises the China Partnership of Greater Philadelphia and its strategic partner, Ben Franklin Technology Partners of Southeastern Pennsylvania, in the formation and implementation of the US-China Eco Partnership with TEDA.
The newly recognized Eco Partnership will work with leading companies in the Greater Philadelphia area, as well as universities and entrepreneurs, to collaborate on best practices and innovative technologies to promote urban sustainability through specific projects that focus on increasing energy efficiency of green buildings, improving electrical use through advanced on line monitoring systems and the role of wetlands in waste water and storm water management.
If you would like to receive additional news alerts, event notifications, or correspondences pertaining to this and other industry-specific topics, please sign up by visiting the Contact Us page. Be sure to provide your contact information, including email address, and list the areas of practice or industries for which you would like to receive information.
This correspondence should not be construed as legal advice or legal opinion on any specific facts or circumstances. The contents are intended for general informational purposes only, and you are urged to consult a lawyer concerning your own situation with any specific legal question you may have.