Print PDF
Attorneys
Eight Lawyers Admitted to the U.S. District Court for the Eastern District of Pennsylvania
December 6, 2012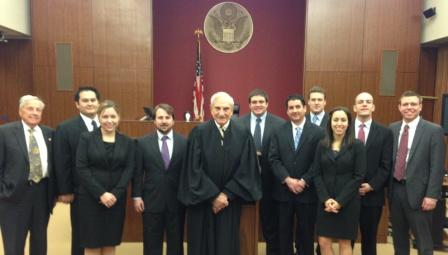 From left: Joseph Foster, Primo Cruz, Patricia Luczak, James Murdaco, Judge Jan E. DuBois, Felix Yelin, Lian Skaf, Pete Schwenker, Samantha Foss, Ghassan Sara Jr., and Michael Ciamaichelo
Eight White and Williams lawyers were admitted to the U.S. District Court for the Eastern District of Pennsylvania during an induction ceremony held before Judge Jan E. DuBois. The ceremony took place on December 6, 2012 at the Federal Courthouse in Philadelphia.
If you would like to receive additional news alerts, event notifications, or correspondences pertaining to this and other industry-specific topics, please sign up by visiting the Contact Us page. Be sure to provide your contact information, including email address, and list the areas of practice or industries for which you would like to receive information.
This correspondence should not be construed as legal advice or legal opinion on any specific facts or circumstances. The contents are intended for general informational purposes only, and you are urged to consult a lawyer concerning your own situation with any specific legal question you may have.