Print PDF
Coverage College® 2013 Brings Over 600 Students Together for Seventh Annual Insurance Industry Event
October 4, 2013
The seventh annual White and Williams Coverage College® had a record turnout on Thursday, October 3, 2013 with over 600 students representing over 130 companies from 18 states. Regarded as one of the premier insurance industry educational programs on the East Coast, the College gives insurance professionals an opportunity to participate in a diverse curriculum of insurance liability and coverage topics.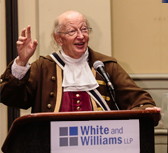 Dean of the College, Gale White, welcomed students and kicked off the event with opening remarks. Randy Maniloff, Dean of Students, presented the American Law Institute's "Principles of the Law of Liability Insurance" as this year's General Session. Dean of Curriculum Michelle Coburn and Associate Dean David Edwards saw to it that the College and the curriculum ran like clockwork.
Following the General Session, students chose Masters Classes from a selection of sixteen courses on topics such as deposition testimony, long-tail coverage claims, insurance insolvency, bad faith issues, and technology and cyber insurance.
Special guest Benjamin Franklin arrived during lunch and entertained students with a discussion of Philadelphia's rich history in the insurance industry. Throughout the event, students had the opportunity to meet and network with the College's seven exhibiting sponsors.
The event concluded with a cocktail reception where students rolled the Coverage College dice for a chance to win $25,000 and students were able to learn firsthand about insurance coverage for promotions.
If you would like to receive additional news alerts, event notifications, or correspondences pertaining to this and other industry-specific topics, please sign up by visiting the Contact Us page. Be sure to provide your contact information, including email address, and list the areas of practice or industries for which you would like to receive information.
This correspondence should not be construed as legal advice or legal opinion on any specific facts or circumstances. The contents are intended for general informational purposes only, and you are urged to consult a lawyer concerning your own situation with any specific legal question you may have.