Print PDF
Associates Volunteer for Legal Advice Live!
April 28, 2014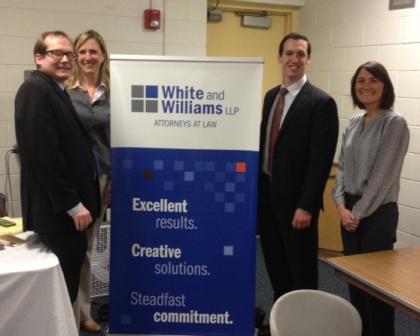 From Left: Michael Jervis, Siobhan Cole, Vincent Barbera, Kimberly Havener
The 13,000-member Philadelphia Bar Association kicked off Law Week 2014 on Monday, April 28, with Legal Advice Live! Local lawyers gathered to provide free, in-person confidential legal advice on a broad range of topics, including personal injury, landlord/tenant law, divorce and child custody matters, wills and estate planning, and employment law. White and Williams associates volunteered their time at the Haverford Branch of the Philadelphia Free Library.
If you would like to receive additional news alerts, event notifications, or correspondences pertaining to this and other industry-specific topics, please sign up by visiting the Contact Us page. Be sure to provide your contact information, including email address, and list the areas of practice or industries for which you would like to receive information.
This correspondence should not be construed as legal advice or legal opinion on any specific facts or circumstances. The contents are intended for general informational purposes only, and you are urged to consult a lawyer concerning your own situation with any specific legal question you may have.