Print PDF
Adoption of Spring Garden Elementary Kicks off with Check Presentation and Exchanging of Gifts
Spring Garden Elementary School (Philadelphia, PA)
March 25, 2013
Watch the video news coverage of the adoption.
White and Williams LLP formally adopted Spring Garden Elementary School during a kick-off event that included a $10,000 check presentation, celebration of the students' achievements resulting from the Positive Intervention Behavior & Support Initiative and the exchanging of gifts between the firm and the school.
The funds donated by the firm will be used to seed the school's library with new books for all grade levels. The school library has been closed for ten years due to major renovation needs and lack of books available for students. At present time, the school has a small supply of books – none of which were published during this century. The firm also presented students with a bookmark and a small toy.
The students welcomed the firm into their family by presenting a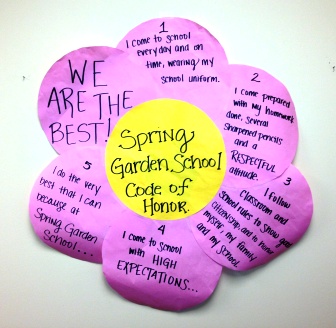 signed banner and a pledge to live by their code of honor that states:
I come to school everyday and on time wearing my school uniform;
I come prepared with my homework done, several sharpened pencils and a respectful attitude;
I follow classroom and school rules to show good citizenship, and to honor myself, my family and my school;
I come to school with high expectations;
I do the very best that I can.
In addition to the $10,000 donation, some of the yearlong activities will include: support of the school's "Girls Unite" program through discussion and mentoring, donation of school supplies, a winter clothing drive, participation in "Clean Up Day," and other ways to connect lawyers and staff with the students as the needs present themselves.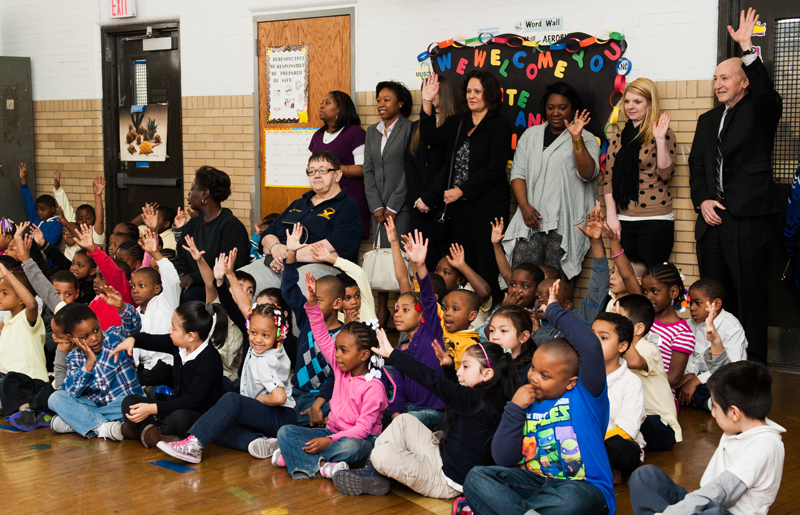 White and Williams launched its "Adopt a School" initiative as a way to give back to the community, invest in education – specifically within Philadelphia's public school system, which has faced sharp declines in funding over the past several years leaving schools like Spring Garden in dire need of assistance – and provide a unique opportunity for lawyers and staff to engage through the investment of time, finances and resources.
Photos by Lorraine Daley
If you would like to receive additional news alerts, event notifications, or correspondences pertaining to this and other industry-specific topics, please sign up by visiting the Contact Us page. Be sure to provide your contact information, including email address, and list the areas of practice or industries for which you would like to receive information.
This correspondence should not be construed as legal advice or legal opinion on any specific facts or circumstances. The contents are intended for general informational purposes only, and you are urged to consult a lawyer concerning your own situation with any specific legal question you may have.