Print PDF
11th Annual Coverage College Features Discussion on ALI's Restatement of the Law, Liability Insurance
October 30, 2017
White and Williams' Coverage College welcomed nearly 400 students on October 26, 2017 at the Pennsylvania Convention Center. For 11 years, Coverage College has provided an opportunity for insurance claims professionals to engage in a rigorous study of a diverse insurance coverage curriculum.
Michael Olsan, Chair of the Board of Trustees, kicked off the event with opening remarks, followed by a welcome to students by Gale White, Dean of the College. Randy Maniloff, Dean of Students, presented "Independent Counsel: When, How and Why?", a discussion of the issues surrounding independent counsel, as this year's opening General Session.
The College offered eight Masters Classes on topics including long-tail coverage, trends in cybersecurity, D&O insurance, avoiding waiver and estoppel, and the implications of contractual indemnity agreements on insurance coverage.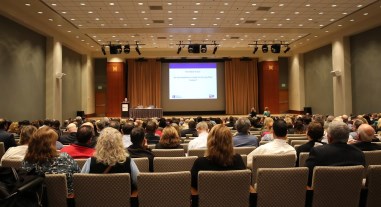 In addition to the Masters Classes, the College featured an afternoon discussion of one of most talked about subjects in liability coverage circles: The American Law Institute (ALI)'s Proposed Draft "Restatement of the Law, Liability Insurance." With Patricia Santelle moderating, two of the principal participants on the project – Professor Tom Baker, one of its Reporters, and Laura Foggan, the American Insurance Association's Liaison to the project – discussed the "life of a claim" as seen through the lens of the Proposed Draft Liability Insurance Restatement.
The annual insurance industry educational program was celebrated throughout the day as students networked with one another as well as the College's faculty and exhibiting sponsors. The College concluded with a cocktail reception where students showcased their miniature golf skills to "putt" their way for a chance to win $25,000.
If you would like to receive additional news alerts, event notifications, or correspondences pertaining to this and other industry-specific topics, please sign up by visiting the Contact Us page. Be sure to provide your contact information, including email address, and list the areas of practice or industries for which you would like to receive information.
This correspondence should not be construed as legal advice or legal opinion on any specific facts or circumstances. The contents are intended for general informational purposes only, and you are urged to consult a lawyer concerning your own situation with any specific legal question you may have.