Print PDF
White and Williams LLP To Honor Justice Sandra Day O'Connor
$10,000 donation to iCivics® web-based educational tool acknowledged by Philadelphia Elementary School
Philadelphia, PA | June 12, 2013
On June 12, 2013, female attorneys, clients and guests of White and Williams LLP will honor U.S. Supreme Court Justice Sandra Day O'Connor with the Virginia Barton Wallace Award at The Four Seasons in Philadelphia. The award, named after Virginia Barton Wallace, the firm's first female partner and one of the first female attorneys to become a partner in Philadelphia, is presented to a woman who inspires other women to succeed through her leadership and achievements. Justice O'Connor, the first female Supreme Court Justice, embodies the spirit of the award and will be recognized for her life-long dedication and work in the United States justice system.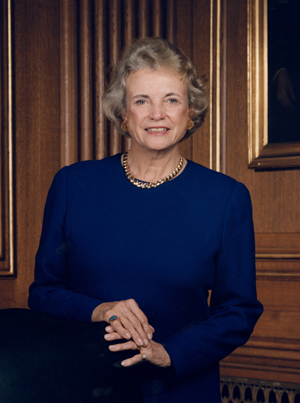 "It is an honor that Justice O'Connor will receive the 2013 Virginia Barton Wallace Award," said Nancy Conrad, Chair of the Virginia Barton Wallace Award Committee. "Justice O'Connor continues to inspire women of all ages and to enrich the lives of school children through the iCivics® Program.
In honor of Justice O'Connor's accomplishments, White and Williams LLP will present a $10,000 donation to iCivics®, a web-based education program founded by Justice O'Connor to teach students about United States government and politics. Students from Philadelphia's Spring Garden Elementary School will acknowledge the donation and implement the iCivics® program during the 2013-14 school year.
"We are grateful to be able to employ a program like iCivics to supplement and enrich our current curriculum," said Laureal Robinson, Principal Spring Garden Elementary. "This program is an excellent way to proactively expose children to the justice system in a very positive way."
In addition to the award presented to Justice O'Connor, White and Williams LLP will recognize Patricia A. Henry, Executive Vice President and Deputy General Counsel for Global Government and Industry Affairs for ACE Group Holdings, for her achievements and inspiration to the women in the Philadelphia region and the insurance industry.
The Virginia Barton Wallace Award is part of the firm's Women's Initiative, a program aimed at creating and maintaining a dynamic environment that fosters the advancement and success of female attorneys through professional and personal cultivation and development. Past recipients of the Virginia Barton Wallace Award include Ambassador Nancy G. Brinker, Founder and CEO of Susan G. Komen for the Cure©, Emmy Award-winning journalist and radio personality Cokie Roberts, Pulitzer Prize-winning author and historian Doris Kearns Goodwin, and Philadelphia news anchor Renee Chenault-Fattah.