Print PDF
White and Williams LLP presented the 2010 Virginia Barton Wallace Award to Ambassador Nancy G. Brinker
November 18, 2010
White and Williams LLP Honors Founder and CEO of Susan G. Komen for the Cure©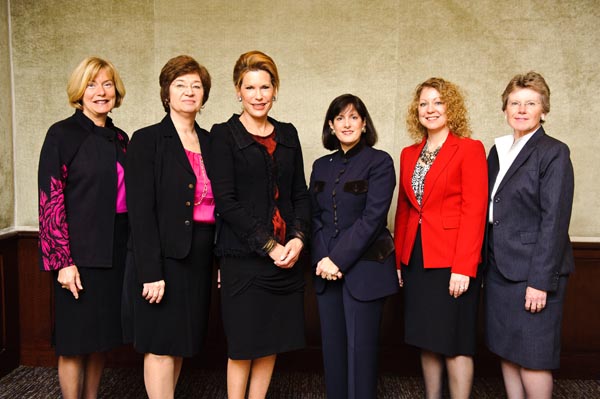 Members of the Virginia Barton Wallace Award Committee (From L to R) Nancy Conrad, Gale White, Michelle Coburn, and Elizabeth Venditta with the 2010 honoree, Ambassador Nancy G. Brinker and special guest, Hon. Annette M. Rizzo (center)
Philadelphia - More than 150 women leaders in law and business from the Mid-Atlantic region, including the Hon. Annette M. Rizzo, the Hon. Renee Cohn Jubelirer, and the Hon. Diane Welsh (Ret.) gathered on November 18 to honor Ambassador Nancy G. Brinker, Founder and CEO of the Susan G. Komen for the Cure©, with the Virginia Barton Wallace Award.
The event, presented by White and Williams LLP, included speeches by Ambassador Brinker and by Judge Rizzo, as well as an award ceremony and presentation of a donation from White and Williams LLP to Susan G. Komen for the Cure©.
Ambassador Brinker took to the stage with an inspiring lesson - passed down to her by her mother - about the importance of fixing what is wrong in one's community. Ambassador Brinker chronicled her journey from starting a small charity with $200 and a shoebox of friends' names to becoming the leader of the world's foremost breast cancer organization. She spoke of the unifying power of the fight against breast cancer, describing a recent Race for the Cure© event in Jerusalem that brought together thousands of women of many faiths and cultures. Ambassador Brinker also implored the women in attendance to put their considerable talents to use in the battle against breast cancer. Following her speech, Ambassador Brinker signed copies of her book, Promise Me: How a Sister's Love Launched the Global Movement to End Breast Cancer, which was presented to all guests.
In addition to the award given to Ambassador Brinker, White and Williams LLP also recognized Judge Rizzo, of the Philadelphia Court of Common Pleas, for her groundbreaking work in spearheading the Philadelphia Residential Mortgage Foreclosure Diversion Pilot Program. Judge Rizzo spoke about the success of the program, and noted that a collaborative effort by many different groups of people - from homeowners to lenders to attorneys, including several from White and Williams LLP - have kept many homeowners in their homes. Like Ambassador Brinker, she emphasized the importance of becoming involved in pro bono activities in one's community.
The Virginia Barton Wallace award, established in 2006 and named after White and Williams LLP's first female partner, is part of the firm's award-winning Women's Initiative - a program aimed at fostering and advancing the career of women in the law. It is presented annually to a woman in business who, like Ginny, has used her leadership and passion to inspire other women to succeed.
"Ginny is a significant part of our firm's proud history, and her accomplishments are rooted into the foundation of White and Williams," said Michelle Coburn, Chair of the Virginia Barton Wallace Award Committee. "In memory of Ginny, we were honored to pay tribute to Ambassador Brinker, whose commitment and accomplishments impact the lives of millions of people throughout the world affected by breast cancer."
Past recipients of the Virginia Barton Wallace Award include Emmy Award-winning journalist and radio personality Cokie Roberts, Pulitzer Prize-winning author and historian Doris Kearns Goodwin, and Philadelphia news anchor Renee Chenault-Fattah.