Print PDF
White and Williams LLP presented the 2008 Virginia Barton Wallace Award to Cokie Roberts
October 8, 2008
Annual Award Breakfast Hosted by Area Law Firm Motivates and Inspires Women in Law and Business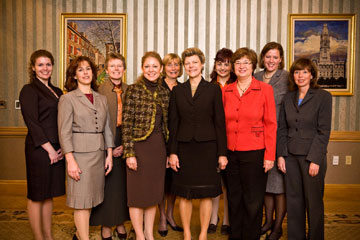 Members of the Virginia Barton Wallace Award Committee (From L to R) Eileen Monaghan Ficaro, Jennifer Wojciechowski, Elizabeth Venditta, Michelle Coburn, Nancy Conrad, Judith Sullivan, Gale White, and Rosemary Schnall with the 2008 honoree, Cokie Roberts (center).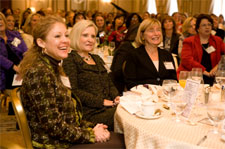 Philadelphia – Nearly 300 women leaders in law and business, including state and federal judges, gathered to honor Emmy-Award winning journalist and radio personality Cokie Roberts with the Virginia Barton Wallace Award at the Rittenhouse Hotel on October 8, 2008.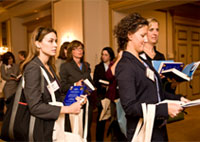 The annual event, hosted by White and Williams LLP, included an award ceremony and check presentation. Roberts then addressed the attendees with an inspirational speech based on her latest book Ladies of Liberty: The Women Who Shaped Our Nation. During her uplifting remarks, Roberts advised that professional women "must take inspirations from the past to take it to the future." It is that advice which she has used in her own life, and which has led to her trailblazing success. Participants also received a copy of Ladies of Liberty, which Roberts signed for each attendee following her remarks.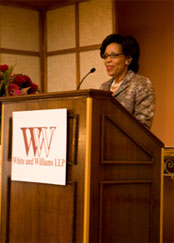 JoAnne Epps, Dean of Temple University's Beasley School of Law, also addressed the gathering and gave her thoughts as to the state of women in the profession. According to Epps, "Women must dream and redefine what it means to be a success. It's what we can dream that we can pursue. And what we pursue is what we can reach."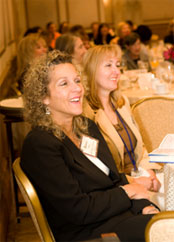 The award, established in 2006, honors Virginia "Ginny" Barton Wallace, the Firm's first female partner and one of the first women to become a partner in a major law firm in the city of Philadelphia. It is presented annually to a professional woman who embodies the same qualities that Ginny possessed – leadership, drive, exemplary work ethic, and an ability to inspire other women to succeed. Past recipients of the Virginia Barton Wallace Award include Pulitzer Prize-winning author and historian Doris Kearns Goodwin (2007) and Philadelphia news anchor Renee Chenault-Fattah (2006).
In addition to the award, the Firm presented Roberts with a $10,000 check to Stone Ridge School of the Sacred Heart, an organization based in Bethesda, Maryland. Roberts selected Stone Ridge to receive the $10,000 donation because she believes, "Stone Ridge captures the same spirit of Virginia 'Ginny' Wallace."