Print PDF
Inspiring The Future: Female Attorneys of White and Williams LLP Kick Off Campaign Aimed at Empowering, Inspiring, and Motivating
July 10, 2008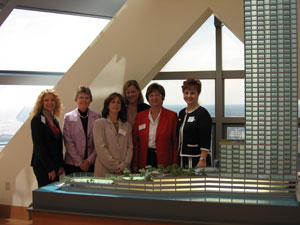 Philadelphia - Reflecting on the past and the example set forth by the illustrious career of Virginia Barton Wallace - the first female attorney to be named a partner at White and Williams LLP - women in the firm launched "Inspiring the Future" - another branch of the firm's Women's Initiative.
The kick-off event was held Thursday, July 10, 2008 at the Trump Tower Skyline Presentation Center on the 57th floor of One Liberty Place. White and Williams' female attorneys enjoyed a wine and cheese cocktail reception that included topical sessions about personal and professional attributes of successful women, a mentoring session, and a roundtable discussion.
"Since Ginny, our firm has had a long-standing tradition of supporting women and helping them advance their careers in the legal profession. This campaign is aimed at adding to the culture that White and Williams has established - one where women succeed and choose to practice," said Gale White, Chair of the "Inspiring the Future" committee.
Aimed at recognizing, supporting, motivating and empowering female attorneys, committee members Michelle D. Coburn, Judith J. Sullivan, Elizabeth A. Venditta, and Jennifer L. Wojciechowski see "Inspiring the Future" as a vehicle used to create and maintain a dynamic environment that fosters the advancement and success of the 71 women within the firm through professional and personal cultivation and development.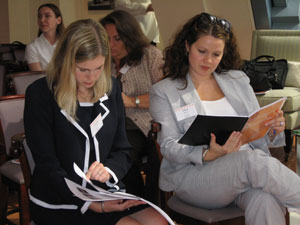 "Inspiring the Future" comes two years after the creation of the Virginia Barton Wallace award - an annual breakfast event that honors a women who, like Wallace, upholds the values and exemplifies the highest level of dedication and advancement of her profession.
This year, female attorneys and clients of White and Williams will gather on October 8, 2008 to present the Virginia Barton Wallace Award to Emmy Award winning radio and television news journalist Cokie Roberts. Past recipients have included Pulitzer Prize winning historian Doris Kearns Goodwin and Philadelphia news anchor Renee Chenault-Fattah.