Print PDF
White and Williams LLP Presented Healthcare Summit: Beyond Tort Reform
May 21, 2008
Hundreds Gather to Discuss Emerging and Legal Topics Affecting the Healthcare Industry
Philadelphia - Recent case verdicts, changes in law, and emerging technology are some of the issues affecting the healthcare industry today. On May 21, 2009, nearly 200 healthcare professionals from about 100 area companies, joined healthcare and appellate attorneys from White and Williams LLP, as well as guest speakers from Tsoules, Sweeney, Martin, and Orr, LLC, Geisinger Health System, the Commonwealth of Pennsylvania MCARE Fund, Temple University School of Medicine, Ringler Associates, Forensic Resolutions, Inc., and TrialGraphix, for an in-depth look at these issues and developing trends in the industry.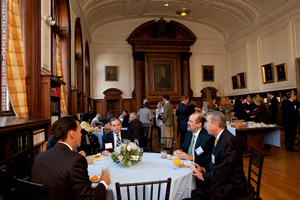 The half-day event allowed physicians, nurses, hospital administrators, risk managers, insurance adjusters, and other industry experts to attend general and breakout sessions on topics including:
The Case of the Missing and Altered Evidence
Punitive Damages: Putting Square Pegs into Round Holes
Beyond the Numbers: The Practical Effect of Liens on Healthcare Litigation
Emerging Issues from the Appellate Courts
Managing Physician Practice Risk: Linking Patient Safety and Quality to Best Business Practices
Discovery of Electronic Health Records: Mountains of Paper and Back Again - An Attorneys Tale
Minimizing Damages in Catastrophic Injury Cases in a Changing Economic Climate
What you Need to Know Before Crossing State Lines: Important Distinctions in Multi-Jurisdictional Practice in PA, NJ, and DE
In addition to the sessions and networking opportunities, guest speaker Barbara Holland, Esquire, shared valuable insight as the Chief Counsel of the Pennsylvania Governor's Office of Healthcare Reform regarding the impact of tort reform on the healthcare industry in Pennsylvania.
Dr. Brian McDonoughmedical editor for a Philadelphia radio station and Chairman of the Department of Family Medicine of St. Francis Hospital in Wilmingtondelivered an engaging keynote address on the threat of litigation and its effect on the practice of medicine and the physician-patient relationship.