Jason Poore - Youth Courts
Jason Poore is an Associate whose practice focuses on complex medical malpractice actions, construction defect cases and general litigation matters.
I am currently the Chair of the Youth Court Committee of the Philadelphia Bar Association. I started this Committee approximately one and a half years ago. Through my position as a liaison on the Young Lawyers Division (YLD) of the Philadelphia Bar, I was quickly able to garner support and volunteers. We now have approximately ten members, a running list of tasks and achievements, and even a budget.
About two years ago, I first learned about Youth Courts. I immediately knew that I needed to get involved and promote this great program. A Youth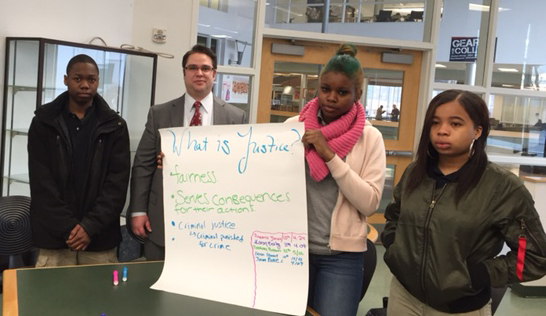 Court is an in-school student run disciplinary system where students administer restorative justice to their peers who commit minor infractions that usually result in suspension. There are several benefits of this program, including saving kids from the school-to-prison pipeline and teaching students to become community citizens and leaders. The Committee achieved great results this last year. We started a brand new Youth Court at School of the Future in West Philadelphia and passed a Bar Resolution to support pending Pennsylvania state legislation that would create a task force to investigate how to implement Youth Courts statewide. We also succeeded in implementing Youth Courts in the YLD Lawyer in the Classroom program.
Anyone who I have discussed Youth Courts with knows how passionate I am about this program. Good kids in underprivileged communities who make mistakes deserve an opportunity to learn and mature. I also firmly believe that teaching students to discipline their peers and themselves and to take control of their own environment has several implicit benefits for youth from all socioeconomic backgrounds.
I have learned so much through my involvement with Youth Courts. It has provided me an outlet for serving certain core duties I feel I have as an attorney, which include supporting my community and promoting justice. I am also fortunate to work with many great attorneys on this project, including White and Williams attorneys Michael Jervis, Alison Russell, Geoff Sasso and Alicia Van Sciver, who have selflessly given their time to support this program and the students of the Philadelphia area.
If you have any questions about Youth Courts or would like to get involved, please feel free to call or email me.